If you like to swim, then Harge right place to be.
Here you can swim in shallow water, from the diving tower or in our heated pool, which has a water slide. The natural beach is wide and child friendly. Here, the smallest can build sandcastles and splash safely in the water.

(At the beach Harge restaurant is located, with food, fully licensed and lovely views of Hargeviken.)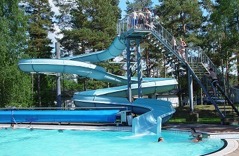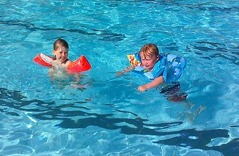 Here you can borrow free beach wheelchair Hippocampe!
We have 3 chairs in size. S, M and L
The chairs are available for lending at Hargebadens pool. Beach wheelchairs are free to borrow, but an own wheelchair shall be deposited as security.
Shareholders lifting quilt is required.
Wheelchairs are available on site June 12 to August 18 every day at 11 am to 6 pm.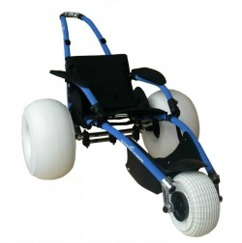 The pool area has a 25-meter heated pool with water slide and children's pool. There is also a sauna in the area for chilly days. I asked the kiosk is a selection of ice creams, drinks, coffee, sweets, sausages beach toys.
The pool area is open daily from 11 am to 6 pm until the 18th of August.

Prices
The public
60 kr/person
180 kr/familiy of 4 people

Camping guests
30 kr/person
100 kr/family of 4 people
Show your showercard or tag for discounted príce

exercise swimming for camping guests (adults) is free between the hours. 10: 00-11: 00 every day (not valid week 30).