The campground offers 233 sites with electricity of which 20 with drains and areas for camping without electricity. Camping sites are located along the streets, see the area plan. Some places with bushes and some in more open terrain. All places have grass foundation. The camping fee includes hot water in the shower and kitchen areas.
In the service building is an easily accessible cleaning area for campers to drain gray water and replenish fresh water. Latrine emptying on designated spot in service house. Hydrants are all around the camp, see the area plan.
The campground has 233 sites with electricity, numbered 1-145 and 200-288. The size of the sites is approximately 10x10m. 240V 10A. Location 1-121, 137-145 and 200-285 are common (Swedish) plug while the 122-136 has Euroconnector.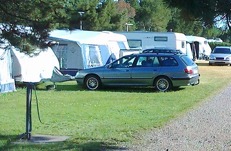 Location 52-71 are equipped with electricity and drain for gray water. Tubing for gray water brought by the guest.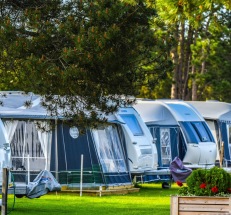 Camping without electricity in a caravan, camper or tent is at unnumbered area and are not bookable. Camping host are happy to help structure the areas and extent of the site also show more individual sites if it is desired.